Reasons for and against raw food: disease or obesity often causes people to turn to raw food. But you can end up on an unhealthy path, as with any type of diet.
With this series of articles, it is possible to go back to the previous article by clicking on the arrow above (right side of screen), for example, if a search machine brought you directly here. Or you can go on to the next article. The 10 articles relating to raw food were revised in 2014. All of the other articles are new.
Conclusion
This article focuses on several major arguments for changing to a raw food diet. In it, I will also discuss some of the more disputed ones. Each of the claims could clearly open up a discussion of its own, which could fill a whole volume of books. Here are the most important points.

There are good reasons to eat a raw food diet, some of which are analytically deduced and others which become obvious through synthesis.
1. The Maillard reaction
An example of an analysis-based argument is the Maillard reaction, which occurs when food is heated; this process has been scientifically shown to cause cancer-promoting inflammation in cells.
Acrylamide is only one of the possible carcinogens resulting from the Maillard reaction. It is found in the highest levels in starchy foods such as French fries and potato chips.
Maillard identified around 450 different molecular bonds in potatoes cooked at a high temperature. Only one of these, acrylamide, came to public attention in 2002. The food industry takes full advantage of the Maillard reaction, which gives fried and baked foods their desirable flavor. See also our book reviews of "Salt Sugar Fat" and "Lügen Lobbies Lebensmittel (Lies lobbies food)".
2. Our predecessors lived exclusively from raw food for millions of years
Returning now to the statement I made above that "some reasons become obvious through synthesis." I would like to show that not only analysis but also logic can lead to inference. A clear example is that undomesticated animals eat raw food. We also know that our predecessors (not ancestors) lived exclusively from raw food for millions of years.
We also know that full genetic adaptation (adaptation, natural selection, evolution — see also geochronology) takes hundreds of thousands or millions of years. We know too that fire was discovered several hundred thousand years ago, but that it has been used regularly in food preparation only in relatively recent years.
These and other findings strengthen the argument that raw food would be "the right type of food" for humans as well. However, only once we show positive experience-based results, can such a "direct synthesis" or "basic logical knowledge" be defendable as an argument.
3. Raw food in medicine
In the United States, raw food in medicine is no longer feared. The advantages of raw food have been shown by extensive epidemiological studies. An increasing number of books written by doctors are appearing which clearly show that a radical dietary change significantly reduces the risk of cancer and can also lead to healing cancer. And these are doctors who practice conventional medicine. You can read more about this in another article.
The causal links between most medicines and their effects aren't fully understood. There are too many parameters surrounding illness and disease, and there are often multiple reasons a person gets a disease. Every person is genetically different and therefore reacts differently to medications.
1. Why raw food?
There are many different reasons why people change over to a raw food diet. As well as reasons of illness, some do it for ecological or for religious reasons. This type of diet is generally only "forgiven" and accepted when the person involved is sick or obese, or when raw foodists show positive results. Strangely raw food snacks are "in," so in fact people considering changing to a raw food diet wouldn't have to do much rethinking. ...
We are all hugely influenced by our environment and the people around us. From the time we are very small, we tend to accept and imitate what we see — even to the point of accepting obscure views or "forms of life" and extremism.
I can already hear the objections: "But where do you get the necessary carbohydrates?" or "Where's the protein?" And you won't only hear this from laypeople. Nevertheless, the answer is quite simple.
For more background information on the connections between the food industry and policy makers, please see my book reviews on Sugar Salt Fat and Lügen Lobbies Lebensmittel (Lies lobbies food).
Why should we do something that seems to be less enjoyable? After all, we can live a lot longer now thanks to conventional medicine. But it must be said that many people over age 60 already have many ailments. People suffer from medical conditions too often and too early. These are seldom noticeable to outsiders.
Is it all just the luck of the draw (or fate)? Is being overweight or obese just fate as well? Or is it an economic issue? Take a look at these statistics on causes of death.
The question that begs to be asked is, Why are we not as fit and healthy in the second part of our lives, or rather why is life less enjoyable then? In any event, science has shown that the genetic life expectancy of humans is around 120 years! We increasingly hear of major studies being conducted in this field in the United States.
Of course, raw food won't be able to magically make all of your ailments disappear. People often have ailments that took perhaps 50 years to develop. So, what arguments do raw foodists put forward for following a raw food diet for a longer period of time, rather than only as a temporary diet?
1.1. Health reasons
As I have outlined elsewhere, my own reasons for turning to a raw food diet were health-related, and specifically cancer-related. I don't claim that cancer can always be cured by a raw food diet. But I do know that a large number of people have regained their health by eating a raw food diet. There is an equally large number of authors who give health reasons as their main reason for changing to a raw food diet.
The Giessen Raw Food Study (currently German only) reports that raw foodists mainly cite health reasons for turning to raw food, as is also the case with others who follow whole-food diets [217-66]. In this scientific study, participants had eaten raw food prior to the study for 3.5 years on average, and these people were still of the opinion that it improved their health. This does not prove anything and could even be misleading, the original motive having given them a feeling of certainty.
Regardless of what you believe or do, the placebo effect shouldn't be underestimated. Faith in something helps, even if no active ingredient is taken. As I have experienced and critically examined the different aspects of raw food, I can confirm that a vegan raw food diet has a huge effect on our health. Faith and the placebo effect cannot keep up with that. With a raw food diet, our cells are spared the ill-effects of the Maillard molecules. Over time, this alone will improve the performance of our organs and body.
According to the clinic, consuming animal products can have the following ill-effects: putrefaction of the gut with a build-up of ammonia, hydrogen sulfide, indole, skatole, Mercaptan (thiol), thioether, all of which strain the liver; problems with the lymphatic system; allergies; the onset of cancer; protein accumulation diseases such as arteriosclerosis and rheumatism; Morbus Boeck (sarcoidosis); diabetes; heart attack (myocardial infarction); apoplexy (stroke); high blood pressure (hypertension); gout; and susceptibility to infection. I would question diabetes in this context.
What should we make of this? It is a little known fact that researchers have postulated or possibly even discovered "living macromolecules." According to the researchers, these are small cells made up of different chemical constituents, both plant and animal in nature. Supposedly, these structures will not fully undergo the process of mineralization when they disintegrate, preserving the life principle.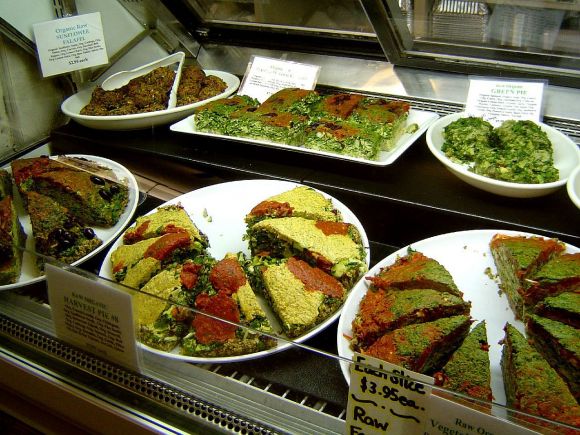 Wandmaker believed that a person who ate only meat would die after 21 days [234-32]. What should you believe then?
Ostertag wrote: Established scientists see life as the product of chemical processes that take place within united cell structures and are not yet fully understood. The process begins with the transfer of electrons between atomic unions and is associated with the presence of amino acids or protein. There can be no life without cells or their chemically-defined information carriers. If it were true that living macromolecules could only be formed within united cell structures, which themselves are undisputedly made up of living macromolecules, this, according to Professor Eisenstein would be just as absurd a claim as the futile chicken or egg question.
It is clear that raw foodists should eat certain parts of plants, preferably wild plants, and preferably raw. Being a proponent of mass sports rather than elitesports, I would recommend that anyone who is considering trying out an extreme form of diet read the appropriate literature. I would recommend books by Ann Wigmore who presents practical ways of taking such steps.
My aim with this series of articles is to provide a broader view of healthy eating because I am very much aware that a strict raw food diet is quite difficult to maintain. I am also aware that it can be quite a challenge to follow my advice, which tends to be more general. If at a later stage of changing to a raw food diet you realize that a stricter diet type is more appropriate to your needs, you will certainly be armed to do this using the knowledge and practical examples I have shared with you here.
You will also be able to identify potential sources of error associated with such a diet.
Interestingly, R. Dawkins [56] and other experts in the field came to similar conclusions in 1976 and 1978. Even if some of Ostertag's assertions are misconceptions, for example, his claim that the human body has the capacity to store sugar and fats, but not protein [33-54], his little book is full of good arguments explaining why raw food affects the body entirely differently than cooked food. These arguments differ from the Maillard molecule or Maillard reaction argument.
What is important to remember is that some people (with arguments that are probably sound) take it a step further than "regular raw food." I myself am convinced that converting to raw food is only one part of a lifestyle change.
One further comment: Plant foods are rich in bioactive substances, including the large group of phytonutrients (responsible for color, smell, and taste) and dietary fiber. Bioactive substances have increasingly become the focus of attention since they — along with vitamins and minerals — greatly determine the quality of vegetables.
1.2. Ecological reasons
With raw food, no energy is needed for cooking, and less environmental pollution occurs as not as much detergent is needed to wash dishes. The basal metabolic rate is reduced, and there is a natural barrier to overeating. Most importantly, raw foodists eat very little or no meat or fish. And when they do, they eat it raw. They therefore have quite a bit in common with vegans.
These ecological reasons are heightened by the suffering of animals kept by humans for food production and the ratio of acreage of land to meat yield, in comparison with plant food production. What goes on in animal-food production is in fact madness. But most of us look the other way and remain unaffected by it.
According to Evangelische Akademie Loccum (Evangelical academy in Loccum), German households spent 33 % of their income on food in 1960. This figure is at about 16 % today. One thing is for sure; this 50 % reduction in spending is not only due to industrial farming and intensive animal farming (aka factory farming) and the resulting measures.
1.3. Piety and respect
Given the BSE crisis, the risk of antibiotic residues in meat, and other reasons, many people have reduced their consumption of meat or given it up completely. There are, however, other seemingly altruistic reasons for abstaining from animal products. Many people become vegans or less strict vegetarians also for reasons of piety and respect. In the case of raw foodists, these are seldom the only reasons.
The conditions suffered by animals kept in species-inappropriate environments are especially harrowing as are the methods of transport and slaughter used upon them.
This cannot be compared to the hunting carried out by our ancestors, nor to the form of breeding known as free range animal husbandry (extensive farming). The latter, more natural method of livestock farming still exists today, mainly in Third World countries, especially South America. Before the Second World War, people didn't eat as many animal products as they do today, with the exception of Eskimos, who, incidentally, age prematurely.
Around 30'000 chickens are often kept in these closed, windowless stalls, with up to 24 chickens per square meter. See also this link on the broiler industry. After 35 days of bleak existence, they are brought to the slaughterhouse. Eggs and egg products have become increasingly popular. Check out this impressive 6 minute video ! Prepare to be amazed by the final scene!
It is far from easy to be a strict vegetarian or even vegan while eating cooked food. One reason for this is that animal-based ingredients are hidden in many convenience foods. Moreover, these products also contain other additives including flavor enhancers, such as monosodium glutamate (MSG, which meets no criticism from Wikipedia), and gelatin, which is found in many sweets, puddings, quarks, yogurts, and, of course, also in gummy bears.
1.4. Religious reasons
Many of the founders of religions have advocated a raw food diet. And on top of that, they didn't frown upon natural or divinely ordained sexuality. Should the Tree of the Knowledge of Good and Evil dismiss our sexuality as a deciding factor in making old, impotent men wise and instead point to how food is cooked and fried?
After all, according to the Bible, the expulsion from Paradise was carried out by a member of the cherubim who brandished a fiery sword. ... The theologian Herbert Haag wrote in his book "Schön bist du und verlockend, Grosse Paare der Bibel" (You are beautiful and seductive — the great couples of the Bible), published by Herder Verlag, You cannot but ask yourself whether it is possible for an erotically stunted person to be religious.
But because a cooked dish tastes so good, due to the Maillard molecules contained therein, the fact that we eat for our taste buds and not for our health, could indeed well be a sin. There are large studies that very clearly show the health effects of certain types of foods.
The term "lifestyle disease" quite clearly indicates that we are making serious mistakes in our lifestyle choices. In any event, followers of religious founders forgot all of the teachings about food and nutrition, and concentrated on the physical. Only one of the restrictions concerning the consumption of meat remained in some places.
In the Catholic Church, the only remnant is the abstinence from meat on Fridays; people eat fish instead. Most people don't even know of this "law" anymore. In fact, you can read right at the beginning of the Bible in the book of Moses that pork is "unclean. ... every one that toucheth them shall be unclean [Leviticus 11:26].
The Quran, or Koran, teaches similar beliefs, forbidding the consumption of the meat of dead animals, the blood of all animals, and, in particular, pork. Over time, the consumption of pork has risen and fallen. In Germany today, consumption of pork lies at around 90 pounds (40 kg) per person per annum.
For other types of meat, an additional annual 45 pounds (20 kg) per person, including babies and vegetarians, is eaten on average.
In the Essenes' Gospel of Peace Jesus says:
Kill neither men, nor beasts, nor yet the food which goes into your mouth. For if you eat living food, the same will quicken you, but if you kill your food, the dead food will kill you also. For life comes only from life, and from death comes always death. For everything which kills your foods, kills your bodies also. And everything which kills your bodies kills your souls also. And your bodies become what your foods are, even as your spirits, likewise, become what your thoughts are. ... For I tell you truly, live only by the fire of life, and prepare not your foods with the fire of death, which kills your foods, your bodies and your souls also. [224-16]
Not many people today know that the bread of biblical times was fruit and vegetables, and not baked bread. And so what Jesus shared was the "daily bread," and not the "deadly bread"!
2. Disadvantages of raw food
In the article "Raw Food? No, Thanks!" we learned primarily about some psychological disadvantages of raw food.
The fact that only a very small proportion of the general public eats a raw food diet can also be seen as a disadvantage. Raw foodists are more or less left to their own devices, or at least they were until the Internet came into being.
Today, you can connect with many raw food groups whose members are always willing to help. But many dogmatic views of the different forms of raw food diets exist, and if we were to believe every crazy notion that came our way there would be nothing left to eat!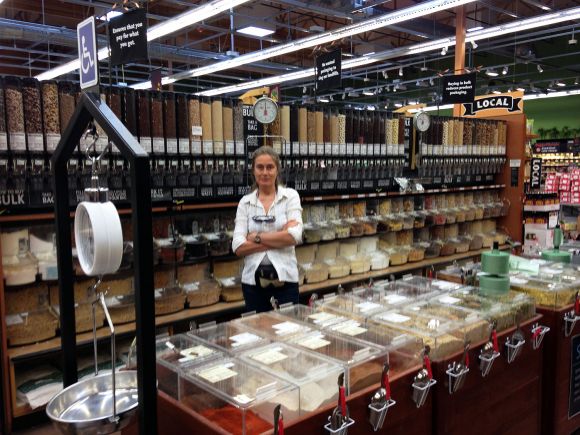 And it is quite difficult to choose the right type of raw food diet. In the next few articles in this series, you will find a list of the different types of raw food diets, along with their advantages and disadvantages, as these are beyond the scope of this article.
Eating out isn't easy either, although you will find delicious salads in most good restaurants, both with or without dressing, and fruit salads for breakfast. But it's true that we raw foodists aren't as "well served" as our dining neighbors. Most restaurants just do not know about raw food.
For this reason, eating out isn't always so much fun. Invitations can also be problematic unless the host or hostess understands and respects your reasons for being a raw foodist. But these are the least of our worries.
What's worse, in my opinion, is the fact that raw food is unchartered territory for most people. The first step is to make your way through the jungle of information that's out there. And that takes time.
The following articles include some important, established information about raw food and also some hidden dangers you might encounter, for example, eating uncooked beans.