A healthy diet contributes significantly to good health. This realization has gained increased recognition over the last several years. Various interest groups out there advise us matter-of-factly on what we need to do to improve our health. But most of this advice comes to us from the food industry, for example, via television commercials. There are also publications on the subject from institutes of science, statements made by medical doctors and nutritionists, and information from alternative or even "alternaive" sources.
Are you making good health choices for your life?
A vista can stand for more than a panorama or beautiful scenery like the above image. It can instead represent what lies ahead. An ideal or a goal to which you can aspire. And this should be based on reality, not a pipe dream.
On this website, you won't be asked to buy anything. You will receive sound advice and read scientific evidence that isn't tainted by industry interests. You can use this information to significantly improve your current and future health. And once you have read the information on this site, you will be able to form your own educated opinion.
We are flooded with contradictory facts and opinions. New fads are born and enthusiastically embraced — but only until the next craze comes around.
People who are looking for clarity will find facts on diet-health.info — without information about current trends in dieting and healthy eating. There are already enough forums and websites out there that have this as their focus. And most of these are supported by commercial interests, or the information presented on their sites is a matter of conviction rather than facts.
Health and Nutrition — diet-health.info
It is clear that we need more than just the right diet if we want to have a healthy lifestyle or recovery. Other factors certainly come into play, and we will focus on these as well. The emphasis, however, has to be on nutrition. Why is this?
My trip through the United States in the spring of 2013, when I traveled thousands of miles from coast to coast in 66 days, made me aware of what we should expect in Europe with respect to health and sickness. I hadn't been to the U.S. for 30 years and found the changes in eating habits, physical appearance, and diseases to be enormous.
A new level of unhealthy eating has been reached in the U.S. and is in full swing. Where previously I saw pasta, pizza, and sometimes fast food, there is now a vast selection of fast foods, convenience foods, and soft drinks. To sell more products, the industry now uses the name functional foods, claiming that these foods have additional health benefits. And few people know that alongside the almost 400 ingredients that must be declared on food labels, there are also about 4,000 additives that can be added to "factory food" without having to be declared.
In the midst of this jungle of nutritional information, diet-health.info aims to bring you objective and well-researched evidence. We want to provide people with information about the links between lifestyle and diseases of affluence.
The information you read here won't reflect the latest trends in diets and nutrition that will soon be outdated. Rather, the articles here are intended to show the underlying reasons for such trends. Our focus is on healthy habits that have been established to be the foundation for a long and healthy life.
What are the important aspects, and what are simply less effective gimmicks? When are we grasping at straws hoping for recovery, and which of our possibilities promise real success? How much do we really have under our own control and how much is determined by our genes? Which steps will lead us in the right direction, which in the wrong ones, and why?
It's likely that few people come to diet-health.info without a very good reason. Illnesses, both serious and less serious, have the ability to force us to take action — but what should we do? In 1978, I was told that I had a statistical life expectancy of 2.5 years. Since then, I have focused on healthy living and drastically and fundamentally changed my lifestyle.
The topic of this link, however, would only be of interest to a small minority; let us instead look at all of the different levels of healthy eating.
The following questions seem to be gaining increasing importance for today's population: "How can I reach my optimal weight and permanently keep it there?" What do I stand to gain by exercising and changing my diet? On diet-health.info, we want to answer these questions and later also add tips for shopping, and good and interesting recipes for various types of diets. In addition, we present a variety of book reviews and other articles for you to read.
At this stage, I can only hope that we will soon have active contributors who are equipped with the necessary knowledge and experience to answer these types of questions and participate in discussions. I realize that finding people like this will be the most difficult part. But right now I would like to wish you good health and all the best as you find the path that will lead you there.
And if you would like, go here to find a recipe for an especially healthy breakfast.
Cordially,
Ernst Erb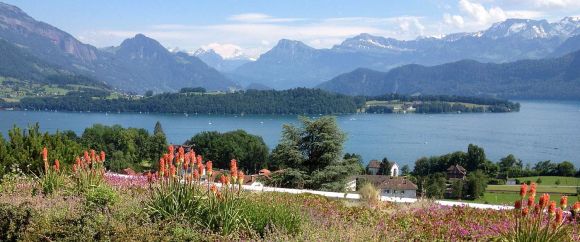 Picture courtesy of www.bed-breakfast-wellness.ch
PS:
We first started work on diet-health.info in November 2013. We are still working on the layout of the site and plan to soon add additional applications. We are in the process of revising and adding new articles to the 15 rubrics — and still have much work in front of us. This is similar to the situation in 1999, when I established the website Radiomuseum.org, which I, along with other active members, transformed into the world's best site for the field.