Industrial food is harmful because glutamate and sweeteners harm the enteric nervous system, or the second brain, and the brain.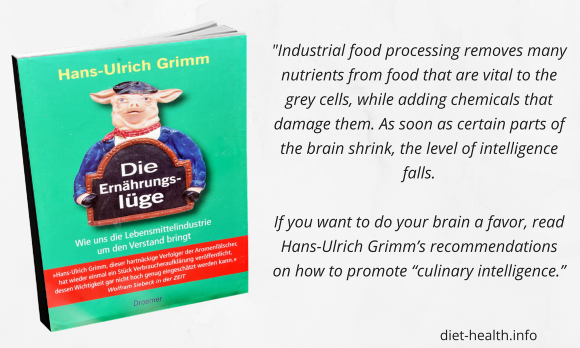 © CC-by 2.0, Collage Catalina Sparleanu, PhD, Foundation Diet and Health Switzerland
Conclusion
In this book, the author informs us about foods that cause harm to our brain and gastrointestinal tract (enteric nervous system, ENS). The culprits are convenience foods and ready-made preparations such as sauces and artificial flavorings, as well as soft drinks and too many sweets.
Hans-Ulrich Grimm pays special attention to monosodium glutamate and sweeteners, especially aspartame, but also deals with "Rita.." ("methylphenida..") and specific additives. He explains some of the side effects caused by consuming these substances.
It is, however, also important to know that monosodium glutamate is a salt of one of the amino acids and is present in almost all foods that contain protein. Only a minority of people suffer ill effects when they consume processed "free," or unbound, glutamate.
A number of researchers have found processed glutamate to be the root of problems in children and adolescents with behavioral issues. Cooking, drying, and fermenting cause the cell membranes of bound glutamate to split, thus producing free glutamate.
The book highlights case studies from the print media, such as the Frankfurter Allgemeine Zeitung (FAZ), Neue Zürcher Zeitung (NZZ), The New York Times, Der Spiegel, Die Zeit, and New Scientist.