The China Study clearly lays out how the current Western diet can be improved to prevent lifestyle diseases. We say: Most important book on nutrition and health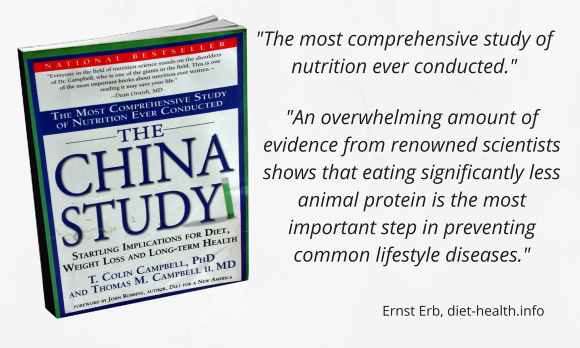 © CC-by 2.0, Catalina Sparleanu, PhD, Foundation Diet and Health Switzerland
Conclusion
Saul, who had a good reputation, changed into Paul. In much the same way, T. Colin Campbell, author of "The China Study", underwent a major transformation. In "The China Study", Campbell summarizes an overwhelming amount of evidence from renowned scientists and shows that eating significantly less animal protein is the most important step in preventing common lifestyle diseases. He also discusses the fact that it is often possible to cure yourself by making changes to your diet.
Since the food and pharmaceutical industries have almost unlimited means and actively prevent change toward a healthy diet, evidence of this magnitude is required for the public to have a change of opinion. Business, government, media, and the health care system are closely linked. A good fable (lie) persists forever. But understanding the truth requires the ability to perceive and think.
1. Summary
The author, Campbell, describes quite convincingly how he swore by animal protein as a child and young adult. His dissertation was also based on his conviction that animal protein was of particular importance. He wanted to promote higher consumption of meat, milk, and eggs as he believed this would help to improve people's overall health. For a number of years, the author worked on a related project in the Philippines.
During this ten-year project, the main goal was to get children to eat more animal protein. One of the ways they did this was to establish "self-help" education centers. Then he discovered that Children who ate the highest protein diets were the ones most likely to get liver cancer (p. 5).