After age 50 or if you have health problems, get a physical examination every X years. As a comparison, get one before switching to raw food—it's YOUR life!
I revised these ten related articles on raw food in 2014. All of the other articles have been written recently.
Summary
Most often, the people who decide to switch to a raw food diet either have a serious illness or lead a very healthy lifestyle. Those who are seriously ill are confronted with death. This commands their entire attention (consciousness).
You should know your personal numbers for the values described below and discuss these with a physician not only to have a comparison, but also to uncover any unknown physical or psychological problems. If you are anorexic, your doctor should work with you during the transition.
If in the course of the tests, your doctor discovers that you have a serious illness, you have won time, and the problem can be solved sooner.
For example, essential hypertension (also called primary hypertension or idiopathic hypertension) disappears in many cases after only a few days of eating right as long as you stick to your diet. But usually physicians deny this because they don't know enough about nutrition—but they still have a strong opinion on the subject.
If you are already sick, you should only make the transition if you are in a position to follow the new diet closely. Avoid poor nutrition by doing thorough research on the subject.
A strict vegan raw food diet without dairy or grain products is highly recommended for the beginning—until you get to know how your body reacts to certain foods. In the case of strong reactions, you should find a doctor to work with who specializes in nutrition.
1. Steps to take before switching to a raw food diet
It is unlikely that active young people who are full of life and more or less follow the mainstream society without concern would have an awareness of a healthy lifestyle.
For people, damage is not visible or detectable when they are young either and only appears much later. Just compare the skin of smokers and nonsmokers in their "best years."
Today's lifestyle causes people to get lifestyle diseases at an early age—even if these sometimes remain undetected.
I recommend that you have a physical examination that includes several tests so that the difference between your values before and after eating a raw food diet for some time can be established not only subjectively, but also objectively.
With many diseases, a strict vegan raw food diet can work wonders.
Results like these can be seen in a number of firsthand reports, not only in mine. But if you find out that you have a particular disease, you still shouldn't rush into eating a raw food diet or blindly follow your doctor's instructions.
In such a case, the best thing to do is to get a second opinion from a doctor who has practical experience in using raw food as treatment. And you also have to decide for yourself if you want to eat a strict 100 % raw food diet and if you are capable of doing so.
Only people who have the mental strength and determination will succeed on this path in a society that doesn't understand it. Are you emotionally unattached to the opinions that others have and do you have a strong will? Without the positive attitude of your brain and limbic system, you won't be able to stick to a raw food diet in the long term. See also emotion and instinctive behavior.
2. What tests your doctor should do
It is advisable that you have a record of your results that includes an assessment of your overall health situation. Your physician will suggest various tests based on your age, medical history, and health condition.
2.1. Urine test
A urine test (previously uroscopy) at the doctor's office is usually based on what is called a midstream specimen. Depending on the test, the first morning urine or the second morning urine will be used.
Every few months or if you aren't feeling well (physical illness), the most important parameters can be tested at home with urine from any time of the day.
Simpler urine test strips (e.g., Bayer Labstix, Mission URS-10) show the following: protein, sugar, nitrite, ketones, and blood. These parameters should only show the first color, no matter what type of urine is used.
If you think you have an infection, especially a urinary tract infection (UTI), your physician will also do tests for bacteria or determine the bacterial count with an uricult test (Uricult® Roche) or a Punctomed Urin-Test® (urine test) from Dolorgiet. If the test is positive, your physician will have a urine culture done and test the sensitivity of the bacteria to various antibiotics in order to determine what means would be effective. This is called an antibiogram.
2.2. Complete blood count
At the very least, your doctor should know what your most important blood values are, from a blood count or complete blood count. This requires that blood be drawn (venipuncture) from a vein.
With the determination of the erythrocyte sedimentation rate (ESR or sedimentation rate) that follows, inflammations, infections, rheumatic diseases, signs of cancer, and severe anemia can be detected. Early detection and, if need be, treatment can help to avoid more serious problems.
Other common testing methods include coagulation time and prothrombin time (also called ProTime INR and PT/INR)—using citrated blood. The blood that is withdrawn is also used to test the red and white blood cells (hematology).
The determination of individual values such as hemoglobin, hematocrit (volume percentage of red blood cells in the blood), and leucocytes or the summary of the individual values in a complete blood count can uncover numerous problems such as low immunity, infections, anemia, and dehydration. See also information on the differential blood count.
The determination of biological electrolytes in the blood (sodium, chloride, potassium, calcium, magnesium, and phosphate) provides more information about kidney function. If the potassium levels are too low, this can, for example, cause muscle weakness, paralyses, or in the case of individuals with heart disease, also heart rhythm disturbances.
Your physician should also have your blood sugar level tested (with an empty stomach). Pharmacists can test this by pricking your finger or using more modern methods that don't require pricking.
If your blood sugar value is poor or borderline, you should seek medical advice and have a medical examination done. Normal values can be found below.
If you have poor values, you will benefit most from a vegan raw food diet (no dairy products). See also this book review (currently only in German) on the harmful effects of milk. And also important for women, if you feel that you have less energy or your weight has recently changed dramatically although your lifestyle has been the same, you should have your blood tested for cancer markers.
Perhaps your physician will recommend additional blood tests. In the case of a possible cardiac or pulmonary infarction, your physician may have the enzyme LDH (lactate dehydrogenase), GOT (AST), and CK (creatine kinase) checked.
Note: I am not recommending all of these tests because you are planning to change your diet, but rather so that you know what your health condition is before you make lifestyle changes. Only by doing this will you be able to make an objective comparison at a later point in time.
I want you to feel confident about your new diet when others question its value. You should also have confidence if you develop any disease symptoms that are a result of your previous lifestyle.
Other authors often write about detox symptoms that occur when they make major changes to their previously poor lifestyle. Neither I nor others I have spoken with experienced these when switching to a raw food diet. Your doctor should clarify any absorption disorders such as hypovitaminosis (vitamin deficiency), which are rare genetic or acquired disorders.
2.3. Hair mineral analysis
Hair analyses are used primarily to determine consumption of drugs, narcotics, or drug products. In addition to substances such as cannabis, cocaine, ecstasy, and heroin, doping substances such as anabolic steroids and nandolone can be detected. Even alcohol abuse or alcoholism can be identified via the metabolic product ethyl glucuronide (ETG).
This type of analysis can also be a helpful way to detect a previous lack of trace elements. The current amounts can be seen in a blood and urine mineral analysis.
As well as trace elements, a hair mineral analysis can measure mineral nutrients and heavy metals, but large imprecision errors do occur. For this reason, the analysis is particularly suitable for groups of people who, for example, have been exposed to a common toxin (in their career, building, or place of residence). The analysis is not used to determine a vitamin deficiency.
In Switzerland, for example, the company Baxamed, Hauptstrasse 4, 4102 Binningen, performs hair mineral analyses that test for mineral nutrients and heavy metals. It takes about 30 days and costs 120 € (2015). The analysis set can be ordered via info@baxamed.com.
This section is meant to be an example of how people can get on the wrong track and neglect to take the important steps that are necessary for a balanced diet. If you have taken these important steps, then why not, if the nutritional balance is right for your body and you aren't getting "too much." Only your wallet will suffer. In English, this is called metabolic typing.
Clever businesspeople persuade people to eat in a certain way. Compare here the diet based on the four blood types, called the blood type diet, with the diets below. A person with a good intellectual capacity will realize immediately that they would have to eat very differently on each of these types of diets ...
The same goes for the five element diet, macrobiotic diet, food combining diets such as the Hay Diet, the alkaline diet, Chinese food therapy, TCM, the anthroposophic approach to nutrition, the Ayurvedic diet, whole foods diet, Mazdaznan diet, Waerland diet plan, Schnitzer diet, vegetarian diet, and vegan diet.
And particular fad diets with contradictory nutrition advice such as the Atkins diet, low-carb diet, and numerous offshoots of these are popular because they are based on people's favorite foods. In the long term, these are detrimental to your health.
If you were to take all of these views into account, you wouldn't be able to eat anything at all. And this is only a short list of the many diets out there—here is a more comprehensive list of diets on Wikipedia. Avoidance behaviors and trendy foods should also be questioned.
Do you run out of steam easily? It is a fact that people with a "normal diet" very often suffer from too little L-arginine when they are older. The reason is that our need for L-arginine increases greatly with age since the endogenous rival asymmetric dimethylarginine, a cause of mortality with dangerous effects, increases by a factor of 4. Increased values of ADMA are found in individuals with high blood pressure, elevated cholesterol levels, diabetes mellitus, or chronic liver disease.
You can get more L-arginine by eating, for example, pumpkin seeds (5,353 mg/100 g), raw peanuts (about 3,000 mg), pine nuts (2,413 mg), and walnuts (2,278 mg), all of which are excellent sources of arginine. Dairy milk, on the other hand, contains only 119 mg.
In summary
There are various parameters that will change dramatically when you start to eat a raw food diet and get more exercise. For example, your weight, circulatory values, the amount of urine produced, and many other things. From time to time or regularly, you can test certain values without much trouble.
Modern methods such as pulse oximetry (e.g., with infrared spectroscopy) on your wrist can be used to collect values like arterial oxygen saturation and heart rate. And certainly products from Apple will be helpful such as the iWatch with iOS 8, which in the best case will also have a UV sensor that can measure the intensity of insolation so that it will be easier to achieve and monitor a good supply of vitamin D.
4. Resting heart rate and blood pressure
In another article, I write about the importance of your resting heart rate for a long, healthy life and the importance of low blood pressure when you are fully active and well.
To determine your values, it is easiest to use a smartphone (or smartwatch) and an app for this—or even better a wrist blood pressure monitor. The absolute resting heart rate only occurs during certain sleep cycles. However, the lowest resting heart rate that can be measured is right after you wake up.
It is usually a given that you will be rested, have been in a lying position that is least stressful for a long period of time, without digestive activity, without a large amount of brain activity, and hopefully you won't be nervous or have emotional stress.
The monitor shown here can also save measurement values for two people. Here you can see my blood pressure and heart rate in the morning; I'm still half asleep, but also wide-awake and ready to start the day. As a result of eating primarily vegan raw food, my values have improved to the levels that athletes have (these values were from before I took up jogging). I work a double work week on my computer, even now that I am 77 years old. I do not have athletic heart syndrome.
5. Weight
You should also weigh yourself before you change your diet. Certainly, you already know how tall you are. I also suggest that you measure your waist in two different states. Energy is stored in the form of fat in your body in two harmless and necessary ways—and in one harmful way. The harmful type of fat storage is stomach fat.
This is why, medically speaking, the BMI (body mass index) and the WHR (waist-hip ratio) no longer play a significant role. Now it is your waist circumference that is important. I believe that this is better.
I assume here that the visceral fat can't be displaced by sucking in your stomach and/or having your lungs filled to different capacities. This is entirely in contrast to gasses in your intestine and also stomach organs. In addition, older people often don't have the muscle tone that is needed for a strong core.
This is why I recommend that you measure your waist circumference at the position of your belly button after you have inhaled completely and stuck out your stomach (abdomen) Then measure again at the same position after you have exhaled completed and vigorously sucked in your stomach. This will show you the naked truth. Keep track of these values if you are overweight.
In another section, you can read about the major differences regarding digestion. Do you suffer from allergies? These can also improve immensely when you switch over to a raw food diet. Beginning to eat a raw food diet rarely causes things to get worse as natural fruits and vegetables contain other substances than typical cooked foods. See the previous article and information here about energy balance.
Some people have allergies or intolerances to certain foods, for example, to certain types of fruit.
6. Existing illnesses
You must inform your physician about any significant illnesses or accidents you have had. He or she must have a clear picture of your health condition and know if you are taking any medications (drug products).
6.1. For diabetes
As a diabetic, you should be very careful as you change over to a raw food diet. Make sure that your blood sugar values stay in the normal range. When you are eating foods that are highly digestible, the burden on the pancreas won't be as high. But you should still use a glucose meter to regularly monitor your blood glucose.
If you choose the right raw foods, you can either reduce the number of injections or tablets, or in moderate cases, these can be eliminated altogether. It is always important to regularly monitor your blood sugar levels!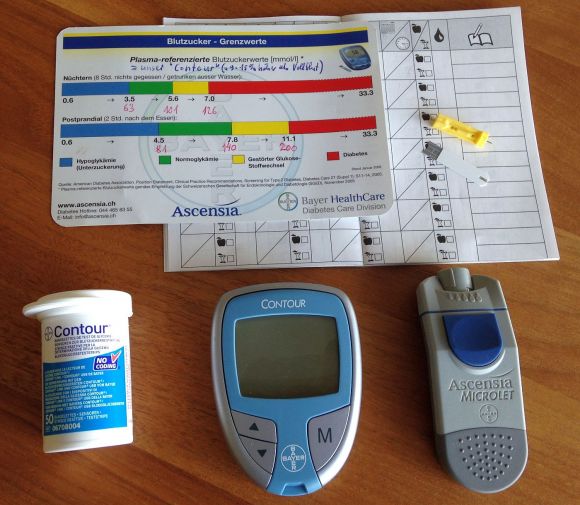 Wikipedia from April 2013 (German entry): In Germany, nearly 20% of the state health insurance budget is used to treat diabetes and its secondary and accompanying diseases. The costs for treating diabetes and its complications was about 25 billion euros in 2005. In 2010, this will increase to about 40 billion.
Patients usually don't know what they will face with diabetes when they are older—even if they have had a positive outlook for decades. This is because the side effects that accumulate from treating the symptoms also play an important role. After all, it is the patients' intelligence that will determine how long their brain keeps up and how long they can lead a relatively normal life because every abnormal blood sugar level destroys cells, including brain cells.
I know diabetics who take something every two hours, almost to the minute and calculated precisely. Conventional treatment, that is only treating the symptoms, can keep patients going for a relatively long time. Continuous glucose monitoring with an insulinpump is also a good possibility. This allows patients to avoid hypoglycemia and its dangerous complications.
Today's young people are eating a lot of fast food, and as a result, an increasing number of people are getting diabetes at a relatively young age and suffering the consequences. A radical change in diet can have a major effect, a curative one.
6.2. High blood pressure (hypertension)
Professor John B. Kostis, Robert Wood Johnson Medical School, in New Jersey, United States, presented a meta study at the nineteenth congress of the European Society for Cardiology in Stockholm that was based on studies of left ventricular dysfunction (SOLVD).
In connection with the medical and economic implications of treating high blood pressure, the analysis of this investigation resulted in amazing findings.
With over 100 million people in Europe who have high blood pressure, Prof. Kostis, is right to question the medical expenditures incurred in the context of this lifestyle disease.
Heart attacks, heart failure, and strokes are almost inevitable consequences of untreated high blood pressure. The alarming high mortality rate of this disease forces us to act since waiting out the problem could increase the subsequent costs so much that these would by far surpass the money saved in the short term.
Original text: 3D reconstruction of the heart as viewed from the apex towards the valves, image flipped 180° relative to illustration above. Pulmonary valve not visible, leaflets of the tricuspid and aortic valves only partly visible. To the left two images in 2D from the same dataset, showing tricuspid and mitral valves (above) and aortal and mitral valve (below).
Even with chronic hypertension, numerous cases have been cured by a long-term raw food diet that is line with the above factors. Most professors in this field don't even know this.
6.3. Gout (hyperuricemia)
Gout is no longer known as a "rich person's disease." Today, almost everyone can afford animal-based products in abundance. In connection with abnormal uric acid excretion, these cause this purine metabolic disease.
One to two percent of Central Europeans currently have this disease that is accompanied by chronic joint pain. There are now various medications that can be used to successfully treat gout.
However, diet changes should always be at the center of any treatment. This is recommended by the medical community.
A distinction is made between primary and secondary gout. Secondary gout is rare, but people sometimes develop gout as a result of various types of leukemia, chronic renal disease, diuretic medications, or means to treat cancer.
To summarize, gout is caused by a purine-rich diet along with a genetic predisposition, and it is often linked to excess weight, which for men in their middle ages especially leads to problems.
But gout can also occur as a result of strict fasting (limited time frame), high alcohol consumption, or taking certain medications—for example, medications taken for renal excretion disorders.
When you are on a strict diet for fasting, your body lives off of its stores. The numerous ketone bodies that are produced inhibit the excretion of uric acid via the kidneys temporarily.
A vegan raw food diet offers you the greatest chances of recovery. But with gout, you need to avoid the following foods: spinach, asparagus, cauliflower (white, orange, Grafitti, Purple Head, and Romanesco), legumes (peas, lentils, and beans—the latter should only be part of a cooked foods diet), soy products, peanuts (also raw), and fat.
A person suffering from gout should try to avoid alcohol as much as is possible because alcohol promotes the production of lactic acid, which leads to hyperacidity of the blood. This lowers the solubility limit of uric acid, promoting a crystallization of uric acid crystals.
In addition, alcohol inhibits uric acid excretion via the kidneys and stimulates endogenous uric acid synthesis. Beer (especially dark beer) also contains purines, which increase the uric acid level in the body. The combination of alcohol consumption and a high-fat diet is particularly problematic.
6.4. Basal temperature test measures thyroid function
It seems that an underactive thyroid (hypothyroidism) is quite common, but severe hypothyroidism (myxedema) is actually very rare. An underactive thyroid causes a person to have low energy levels. Anemia or lymph stasis (blockage), respiratory and urinary tract disorders, and migraines can also occur.
In any case, body temperature tends to be lower, and the circulation of the extremities, such as the hands and feet, is poor. An excellent summary of endocrinology—the inner secretion or rather production and mode of action of hormones—is available at medizinfo.com/endokrinologie (German only).
Gray also writes that an underactive thyroid can be detected by measuring your basal body temperature. This is the temperature that is measured immediately after you wake up and before you move around, and is the lowest temperature that the body has during the time that you are awake.
A basal thermometer can also be used to determine a woman's date of ovulation. But a method that is much simpler than Gray's is to measure your temperature using an electronic thermometer. Just turn the thermometer on, place it under your tongue, and wait until you hear a beep. This only takes one to one and a half minutes.
Here's my conclusion: unfortunately, I don't know what my basal temperature and blood pressure / heart rate were before I changed to a raw food diet. I am only astonished to discover that according to medical standards, someone with my values should have a poor state of health.
You would think that my cholesterol values would be high as well, but the opposite is the case at 3.0 mmol/L (LDL = 1.6). Between the two of us as partners, we should have the exact opposite state of health.
However, in 2001, I had been eating a raw food diet for several years, whereas my wife (then my life partner) had only been eating a raw food diet for a few months. But we should really be able to objectively assess the results that a strict raw food diet has on every single person.
What were your values before and after changing over to a raw food diet and what was your state of health before and after?