Dissertation on raw food from the 1990s shows mistakes that can be made with this diet. The target audience is specialists. Has a rather negative tone.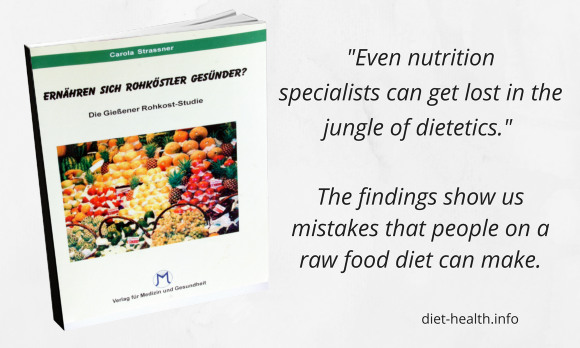 © CC-by-sa 2.0, Collage Catalina Sparleanu, PhD, Foundation Diet and Health Switzerland
Conclusion
This dissertation examines the nutrition and health habits of people following a raw food diet in Germany in the 1990s — however, the persons responsible at Justus Liebig University Giessen may have been biased and/or inexperienced. An interesting and impressive amount of data was accumulated.
The findings show us mistakes that people on a raw food diet can make. This tells us something about those who describe themselves as raw foodists (minimum 70 % raw food), but not a lot about a "proper" raw food diet.
There is noticeable negative bias on the part of the participants. It is not the task of this type of study to give readers advice on raw food, so we should not expect this.
The book is a great find for those interested in reading about nutrition in detail, but the target audience is not the consumer. My book review is accordingly quite challenging to read.
1. Summary