With overwhelming evidence, Dr. Baumslag explains how important breast-feeding is and why baby formula is problematic—something an expecting mother should know!
Conclusion
Based on scientific studies, this book documents the importance of breast-feeding infants for a longer period of time than is customary in our society. It would be optimal for infants to be breast-fed for one year; however, they can be given supplementary food after a few months.
This book doesn't deal with the transition period that a woman who has just given birth goes through (postnatal period, postpartum period), but instead describes the importance of colostrum and of breast milk, which is specially designed for the child.
We also learn much practical information about breast-feeding.
If you want to learn about the health problems that milk and dairy products can cause in children and adults, you should read the book "Milch besser nicht!" (Milk, better not) by Maria Rollinger — or at least this book review of her book.
1. Summary
The authors draw from 190 books and articles, which they list by chapter in the reference section at the end of the book. Professor Naomi Baumslag is a pediatrician who, along with her position as a university professor, works in international organizations such as USAID, UNICEF, and WHO. For many years, she has been the president of WPHN, the very successful Women's International Public Health Network. She has also gained extensive practical experience in numerous countries around the globe.
The book examines practically all aspects and practices related to breast-feeding (nursing) and bottle-feeding (baby formula, infant formula, and "follow-up" milk) babies and toddlers.
It shows the reasons behind the very different traditions when it comes to the female breast, breast-feeding, and infant nutrition. A related topic is sexual behavior during both pregnancy and breast-feeding in different cultural areas, ethnic groups, and times (philosophy of space and time and arrow of time).
It is interesting that social behaviors usually don't reflect our natural needs. Depending on the zeitgeist (spirit of the time) and religion, there are a number of very different customs. However, unnatural practices are often linked to a higher and unnecessary infant mortality rate. The book describes poor options for infant nutrition and the serious consequences of such. We also learn how important it is to have flexible breast-feeding times.
The book also covers reasons why it is important to breast-feed for a longer period of time and for the baby to be close to the mother (cosleeping). This helps to synchronize the sleep patterns (wakefulness, sleep, and sleep stages) of the mother and child. The child doesn't have any reason to cry, and the mother and child can sleep longer in the morning without disturbing the rest of the family.
The text also describes the different ways to stimulate milk flow. These and other aspects are difficult for the Western world to understand at the current time.
Various practices such as having wet nurses lead us far back in history and introduce us to customs other than our own. We read about practices still carried out today as part of breast-feeding that we would never have believed existed.
The book and this text show readers why formula milk has experienced and continues to experience such great popularity, even though it does not offer the same quality and can never completely replace breast milk. There are very logical reasons supported by scientific evidence for the superiority of breast milk.
We also read the story of the boycotts against manufacturers with information about how infants who receive formula have much higher sickness and death rates.
And finally we learn why paid maternity is so important and that up until at least the middle of the 1990s the majority of women did not receive this in the United States.
2. Book review
It is generally thought that breast-feeding is an instinctual process that is driven by hormones. However, the authors explain how breast-feeding is actually something that has to be learned. Other primates also have to learn how to breast-feed. Changing views on the subject also play a role. The female breast has been transformed into a sex symbol in many time periods (zeitgeist) and societies.
Section 1: Breastfeeding Beliefs and Practices
Section 1 is divided as follows:
Part 1 (here 2.1):
Breastfeeding Customs around the World; Breasts as Sex Symbols; Intercourse Taboos; Diet during and after Pregnancy; Cravings in Pregnancy; The Fear of Labor and Delivery; Childbirth Assistance; Mothering the Mother; Galactagogues (substances that promote lactation); Beliefs about Colostrum (first milk); Premature and Small Infants (preterm birth and neonatology); Is the Milk Good Enough? (breast milk); Feeding Styles; Carrying Baby; Swaddling; and Duration of Breastfeeding
Part 2 (here 2.2):
Wet Nursing, Surrogate Feeding, and Healing Qualities of Breastmilk; Selection of Wet Nurses; Slaves as Breeders and Feeders; Do You Have to Have a Baby to Breastfeed?; Surrogate Feeding; Breastmilk Pumps; Breastmilk Banks; Interspecies Nursing; Nursing the Aged; and The Healing Qualities of Breastmilk
2.1. Breastfeeding Beliefs and Practices
The authors show the strong influence that religion and customs have on birth and motherhood. For example, Jews who live in accordance with the Talmud (Torah) are supposed to breast-feed their children at least two years (p. 5). In many societies around the globe, it is the well-off and affluent families, in particular, who have a distaste for breast-feeding.
Although we know that children who are breast-fed for a longer period have a better life expectancy, breast-feeding and the length of such change based on current trends. At times, breast-feeding has been seen as disgusting, unwomanly, or unhealthy (p. 5).
For instance, many rich Chinese women were not able to breast-feed their children at all because they wore very tight dresses that completely flattened their breasts.
The authors discuss the issue of intercourse taboos during breast-feeding. There are indeed good reasons for restricting coital relations since children who are born too soon after their next older sibling have a significantly higher death rate in developing countries and are often later neglected.
The same thing happens when children aren't breast-fed or are breast-fed for too short of a time. The book provides some related statistics and specific examples from various cultures.
The diet restrictions for pregnant and nursing mothers vary widely in different regions and time periods. In certain areas in Tunisia, women don't eat eggs, whereas in another region, the opposite is true and nursing women are encouraged to eat between six and eight eggs daily.
The authors discuss entirely absurd and harmful customs as well as beneficial practices.
In the next subsection, the authors deal with the special food cravings that pregnant women have. Many of these are still unexplained, but others are backed up by science.
In as early as about 400 CE, Plato wrote that he had seen pregnant women eating dirt. This craving for "dirt" can be explained by the fact that dirt contains vitamin B12 and other minerals that may be lacking in some women's diets.
In the Brothers Grimm fairy tale Rapunzel, the expecting mother looks pale and weak. The father to be steals rampion leaves (campanula rapunculus) from the neighbor's garden.
Today we know that rampion leaves and other green vegetables are rich in folic acid (vitamin B9 or folate).
The authors look briefly at the methods of the German physician Prochownik who restricted the caloric intake of pregnant women who had a small or contracted pelvis. His of goal was to reduce the weight of newborns so that mothers would have an easier birth. This was in some cases tragic for the children. Pelvic distortion can result from rickets, a disease caused by lack of sunlight and/or Vitamin D, calcium, or potassium. (p. 14).
Childbirth assistance and support provided to young mothers by relatives are also topics that are very much in contrast to today's industrialized society.
Colostrum, the milk produced during the first few days, is increasingly being recognized as important for an infant's health. It was long believed that this milk, which has a different color and flows somewhat thicker, was harmful for the child. This is why colostrum has been withheld in certain times and cultures. However, the practice leads to many early deaths and children who later have a weaker immune system.
Early childhood mortality had previously been very high; Fildes showed in 1980 that just this one step reduced childhood mortality (infant mortality) by 16 %.
But mothers also take part in other practices, with the support of the industry, that are not in the best interest of the child. An example of this is the sugar water bottles that infants in the United States receive when they are still in the hospital. These make it easier to care for the babies as they are quieter – but it is to their detriment. It gets them used to taking a bottle instead of breast-feeding ...
In seldom cases, this can bridge the time until the breast milk comes in. But new babies usually don't need any fluids besides breast milk, even in hot climates. And this breast milk should come from the baby's own mother if possible, even if the milk doesn't come in immediately.
The authors then turn to the topic of premature and small infants (p. 25). In particular, they criticize the fact that pediatricians only look at weight gain and, if they are not satisfied with this, they recommend supplementing with formula rather than examining the mother's health and eating habits and suggesting changes as necessary. Ironically, this was recommended by Soranus von Ephesos eighteen centuries ago.
The authors give an overview of other changes and differences related to breast-feeding and carrying infants that are found in diverse cultures. They regret that infants no longer sleep in a family bed as was traditional. Disruptions caused by breast-feeding are much smaller when the baby is in the parent's bed because the baby receives milk as soon as it needs it and doesn't have to be moved.
Studies suggest that mothers and their babies have a mysterious connection that is caused by prolactin (PRL) and seem to dream in unison and both know when milk is needed. The sleeping cycles of the mother and child are similar so that they can both get the periods of deep sleep (hypnogram and polysomnography, PSG), which are needed for overall health (p. 31).
The authors write that it is fortunate that swaddling is no longer widely practiced, and they describe reasons why it was introduced in many cultures. However, the authors write, Swaddling is not good for children. In addition to hampering normal muscle development and coordination, swaddling can lead to a variety of medical problems involving the lungs, arteries, and veins (p. 35).
How long should infants be breast-fed? This is a question that is asked time and time again and that the U.S. Surgeon General Dr. Antonia Novello answered as follows in 1990:
The American Academy of Pediatrics says that babies should be breastfed until age one. … It's the lucky baby I feel who continues to nurse until he's two (p. 35).
Customs are very dependent on cultural attitudes. The authors agree with this statement and give reasons why infants should be exclusively breast-fed until they are six months old. At that point, food should be gradually introduced.
A healthy mother with enough milk can also exclusively breast-feed for longer, but after nine months exclusive breast-feeding should be questioned. Continued breast-feeding (along with food) after six months is still always the best method.
2.2. Wet Nursing, Surrogate Feeding, and Healing Qualities of Breastmilk
Wet nursing (wet nurse) came into being to save children when their mother had died or wasn't able to give milk. Later, wealthy families turned this into the standard practice. For example, the pharaohs in Egypt had wet nurses raise their children.
Today, people in the West don't quite know what to think about surrogate mothers and have mixed feelings on the subject. The reasons for wet nursing were and are to provide an infant with breast milk who would otherwise not receive any and to try to decrease the number of deaths caused by a lack of breast milk.
In the section titled "Surrogate feeding," the authors provide examples of cross nursing. In this case, one woman nurses the child during the time when the other woman is at work or vice versa. Surrogate feeding is simply the practice of wet nursing, which generally involves the grandmothers. In the West, we can hardly imagine this occurring, but there are indeed passages in the bible where Naomi (also Noemi) serves as the wet nurse for her daughter-in-law Ruth's child.
The authors finally deal with the topic of giving infants and children the milk of another animal. In this section, they include a statement made by the Greek historian Herodotus of Halicarnassus in the fifth century BCE in which he describes how the Massagetae (in the book Massagetai) of the Caucasus, who were referred to as barbarians (galaktopotes), drank milk directly from animals: They sow no crops but live on livestock and fish, which they get in abundance from the river Araxes; moreover, they are drinkers of milk! (p. 57)
Later, animals were used to feed infants directly, when necessary, and goats were a favorite choice as they even accepted the infant and searched for it at feeding times.
Infants in orphanages and other facilities who did not have a very high chance of survival.
In 1775, Alphonse Le Roy institutionalized the practice of feeding foundlings (child abandonment) directly from the teats of goats.
In rare instances, the infants also drank directly from the teats of donkeys.
However, it was soon realized that the life expectancy of the infants receiving this milk was much lower and that the process often led to their death. This information comes from G. J. Witkowski, "Histoire des Accouchements chez Tous les Peoples", Paris: Steinheil 1887.
There are also numerous examples of women nursing the sick, aged, and imprisoned. The authors provide several examples of this found in literature. They then discuss the healing qualities of milk, in particular, for treating eye infections. Here they draw on the medical document Ebers Papyrus from about 1'500 BCE.
The chapter ends by describing how breast milk has most recently been used to successfully treat IgA deficiencies in liver transplant recipients (Merhav H.J., Wright H., Mieles L.A., and Van Thiel D.H. 1995). Human breast milk is a rich source of IgA, which can successfully prevent enteric infections (gastroenteritis) and microbial translocation.
Section 2: Breastmilk: The Miracle Food and Medicine
This section also has two parts. Each part includes a number of topics:
Part 3 (here 2.3):
Cow's Milk Is for Cows; Breastmilk is Species Specific; The Breasts and Milk Production; Breastmilk Is Alive; Breastmilk Components and Nipple Confusion; Breastmilk and the Premature Infant; The Fight against Infection; Breastfeeding Benefits for the Mother; Isn't Formula Just a Third-World Issue?; The Breasts and Contraception; Is Mother's Milk Always Safe?; Is Cow's Milk Always Safe?; Is Formula Always Safe?; Is Bottled Water Always Safe?; Lactation-Suppressing Drugs; Adding up the Pieces
Part 4 (here 2.4):
Artificial Feeding; Infants Die like Flies; Clean Milk; Education and Advertising; The "Growing" of Artificial Foods; Feeding Vessels; Bottle-Feeding and the Environment
2.3. "Cow's Milk Is for Cows"
Professor Naomi Baumslag begins this section with the sentence Breastmilk is inimitable (p. 67).
In the 1980s alone, more than a thousand scientific papers were published on the biochemical properties of breast milk. But even decades later, new substances contained in breast milk such as polysaccharides, amino acids, and taurines are still being discovered. At the time this book was published, and perhaps even still today, we did not entirely understand why the iron and zinc in breast milk is better absorbed (p. 67).
Even in principle, the milk of each species is different and is designed to achieve different "growthrates". This table from the book shows the days it takes for the various specious to double their birth weight and the percent content of fat, protein, and lactose (energy sources) in the milk.
In the book, it lists only 180 under the days it takes for a human to double their birth weight. I added 90 days, which is now also possible because infants frequently receive cow's milk or dairy products during the breast-feeding period.
On page 69, there is a table from F. Savage King, "Helping Mothers to Breastfeed", African Medical and Research Foundation, (Nairobi, Kenya: 1993) that provides a good overview of reasons why it can potentially be very harmful to give a baby cow's milk instead of breast milk.
The table first shows that bacterial contamination can occur when a baby isn't breast-fed directly. Each species drinks directly from the nipples or teats of the udder. They also get the antibodies and leucocytes they need, which aren't present in formula or milk from other animals. In addition, breast milk supplies the baby with lactoferrin and bifidus factor.
Next, they describe the various organs involved in milk production and lactation. We learn some about the circuit that allows the milk to come in and flow, and about some of the reasons why this process is sometimes blocked.
A problem with bottles is that babies don't have to work for their milk, and they are then full before they have had opportunity to satisfy their oral and touching needs. Incidentally, a woman who has never been pregnant can also give milk. For this, the preparations described above are necessary.
Bottle-fed babies more often develop the habit of thumb-sucking than do breast-fed babies (p. 73). According to Wikipedia, thumb-sucking is a way for children to comfort themselves.
Dr. Baumslag has titled the next section Breastmilk is alive; here she covers the substances contained in breast milk and colostrum. Colostrum, or the first milk produced, is called "liquid gold" because of its color and importance for the child. It is a sticky yellow substance that contains many important antibodies, proteins, white blood cells, and carotene, as well as vitamins A, B12, D, E, zinc, and other substances. This milk changes gradually in the first few days to transitional milk and then to mature breast milk, which adapts to the babies' needs.
Professor Baumslag explains that there are many contradictory studies on colostrum and unnatural supplementary foods. This stems from the fact that an infant who is breast-fed only once a day and then given formula is still statistically considered to be a breast-fed infant, which is a big mistake. Some studies adopt this definition, whereas others define breast-fed infants as those babies who are exclusively breast-fed.
The authors then list out many benefits of breast-feeding and the disadvantages for babies that receive a combination of breast milk and formula or are artificially fed (p. 78).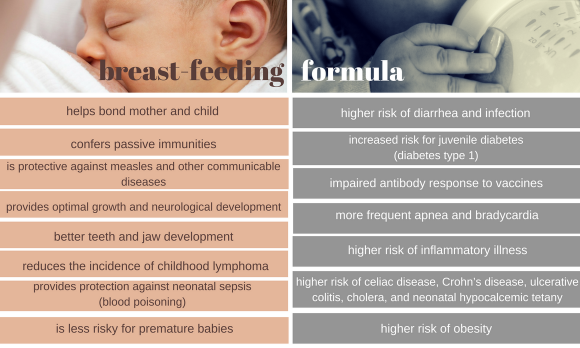 Today, the risk of becoming obese is higher than ever. As compared to breast-fed babies, bottle-fed babies are at least three times more likely to develop adult obesity (p. 78).
We then learn that breast milk can be harmful if, for example, the mother is consuming alcohol, tobacco, or drugs. Exposure to chemical toxins or lead-contaminated soils can also make breast milk unsafe. This information is used by certain groups to discourage mothers from breast-feeding; however, these factors are primarily harmful during pregnancy.
If a mother has an infection, she should not give up on breast-feeding because her antibodies protect the baby; in fact, the baby is more likely to get the infection if the mother stops breast-feeding. With infections, the main route of infection is via the skin, and also secretions from the mouth and nose, and not via the milk (p. 98).
On the next few pages, we read why cow's milk offers much less security when it comes to contamination. For example, in 1989 the Wall Street Journal found that 38 % of 50 milk samples from ten cities contained antibiotics and sulfa drugs (sulfanomide).
The milk is fortified with certain substances, which can also cause major problems.
Dr. Baumslag also explains the problem of regularly giving cows artificial "growthhormones". This brings about 10 to 30 % higher milk yields; however, the cows suffer from mastitis more often and have to be treated with antibiotics. Many additional problems also occur.
Monsanto developed the "growthhormone" rBGH, which is present in the cow's milk in the countries involved. In Europe this is (still?) prohibited. You can read more about rBGH and IGF-1 in this book review of "Milk, The Deadly Poison".
But between 1982 and 1994, the food industry had to recall formula in 22 different instances as the formula was not safe. A large majority of these cases could cause death or lead to serious or irreversible health problems for the babies.
In appendix C on pages 223 to 226, you can find a list of these formula recalls with a description of the problem in each case. Only six of these 22 products were classified as not likely to cause medically adverse health effects (p. 224). The information comes from the FDA and applies only to the United States.
The authors warn readers not to use bottled water. Breast-fed children don't need bottled water, and in most cases it is better to give bottle-fed children formula mixed with tap water. The reason for this is that babies can experience water intoxication if they are given formula mixed with bottled water. Water intoxication is an imbalance of the water electrolytes in the body that occurs in cases of overhydration.
Using drugs to suppress lactation?
Under the term lactation suppression, you will find a Wikipedia entry describing the problems that arise if a woman wants to terminate lactation right from the start. It is interesting that there doesn't seem to a similar entry on the German Wikipedia site.
Dr. Baumslag also explains that women can have a large amount of pain when the milk comes in and is then not expressed. Fortunately, drugs are no longer recommended to stop lactation.
The side effects of such mediations are well documented. If a newborn dies or has to be given away, the woman has a problem. An FDA study showed that 90 % of women did not have pain strong enough to make them need to take pain relievers. And the most painful period lasted only for about 12 hours. The pain then resides, and the milk dries up within 10 days.
Disheartened, the authors write: It would be easy to blame the women for being so selfish that they would endanger their health rather than let their own child suckle from their breast. But the FDA, the medical profession, and the drug makers are the real culprits. What kind of society have we created that will direct so many resources at stopping lactation—and so few at encouraging it? (p.108)
After World War II, many American women changed over to bottle-feeding their newborns. Between 1946 and 1956, the previously high rate of breast-feeding fell to 25 %. And as a result 25 % of the babies received formula and 50 % were given evaporated milk.
However, there have been some successes. For example, in 1989 Dr. Natividad Relucio-Clavano introduced exclusive breast-feeding and rooming-in in her hospital in the Philippines and achieved a significant decrease in infant mortality. And the hospital costs were dramatically reduced because the infants were not sick as often. This led to a general trend away from bottle-feeding in the Philippines.
In 1986, a hospital in Quito, Ecuador, with 14 thousand births per year also decided to cease all use of formula and, as a result, achieved a dramatic decrease in newborn infections and infant mortality.
2.4. Artificial Feeding
The section "Infants Die Like Flies" begins somewhat like a crime novel. The events are as terrible as the fact that starting in 1847 Dr. Ignaz Semmelweis worked with no success to introduce mandatory handwashing for physicians before operations and births. At the time, physicians sometimes dissected corpses before delivering babies.
But even breast-fed infants had a high mortality rate. Even worse, between 1775 and 1796 in the foundling hospital in Dublin, the mortality rate was 99.6 %. Of a total of 10'272 children, only 45 survived.
In southern France, Monsignor Morel, the mayor of Villiers-le-Duc, reduced the mortality rate of infants under one year from 30 % to 20 % between 1852 and 1854. He did this by giving the parents a generous monetary award if their child lived to celebrate its first birthday.
Starting in 1893, Morel's son had all of the babies weighed every two weeks by a physician and made sure that the babies only received breast milk. The program was so successful that between 1893 and 1903 not a single infant died.
In 1991, there were eight deaths per thousand live births in industrialized countries, whereas two to four percent of the infants (84 to 188) in developing countries still died. The major cause was and still is diarrhea that can't even be cured with modern hygiene and medicine.
In 1867, Justus von Liebig (1803–1873) developed the first formula and called it the "perfect food" (p. 120). The ingredients in his formula were cow's milk, flour potassium bicarbonate (potassium hydrogen carbonate), and malt.
Many physicians felt that this formula wasn't suitable for infants, which very much annoyed von Liebig. He therefore developed new types of formula, including a formula based on condensed milk.
You can basically say that since the twentieth century it has been well known that breast milk is absolutely the best food for a baby. And by that time, the hygienic practices were better so that milk, dehydrated milk, and condensed milk caused fewer problems than had previously been the case.
And in the cities, there were actually milk stations that provided milk to mothers who couldn't breast feed, weighing programs for infants, instruction in the best way to feed and care for infants, and access to specialists.
Professor G. J. Ebrahim (1932–2012) from the Institute of Child Health (UCL) in London showed how the child welfare clinics were increasingly becoming the best customers and advocates of artificial milk. However, this had started much earlier. For example, the American Condensed Milk Company appealed to mothers as early as 1865 with the slogan Safest milk for infants and children (p. 127).
The authors report on the excessive marketing campaigns, which were a lucrative business for physicians, some of whom owned factories themselves.
It was seen as 'men of sense' rather than 'foolish unlearned women,' taking over the supervision of infant care (pp. 129–130).
And indeed the industry successfully introduced baby formula into developing countries on a large scale and caused the death of a huge number of children there.
Finally, the authors explain the costs of using formula instead of breast-feeding and how waste accumulates from the production of formula.
On page 142, we learn how breast-feeding would help to reduce world population. This statement may sound paradoxical, but breast-feeding is an effective form of contraception that prevents women from having babies too close together and improves the overall health of babies. This, in turn, lowers the death rate, and women choose to have fewer babies. When the death rate is high, women have more babies as this is seen as a type of "insurance policy" (p. 142).
Section 3: Breastmilk Economics — Shaping Corporate and Governmental Policies
Part 5 (here 2.5):
The Global Search for Formula Sales; The Search for Consumers; Private Profit versus Public Health; Turning the Tide — The Era of Activism; Developing the WHO Code; The Code; The Boycott Ends ... and Begins Again; Is the Code Working?; The United States Embraces the Code; The Medical Connection; The Discharge Debate; The "Baby-Friendly" Effort is Launched; The WIC Program; Supplying WIC with Formula; How Should Formula Be Sold?; Where Are We Now?
Part 6 (here 2.6):
Women and Work; The Work of Women; A Historical Perspective of Maternity Entitlements; Breastfeeding at Work
2.5. The Global Search for Formula Sales
The authors describe how breast-milk replacement products, which often result in infant deaths, have at times been marketed as modern and fashionable. This has paid off for the industry, which earns more than eight billion dollars annually on baby formula. We learn about the steps the industry has taken to convince women that bottle-feeding is the best choice — to the detriment of their children.
From a speech given by Dr. Cicely D. Williams (1893–1992) at the Singapore Rotary Club in 1939 titled Milk and Murder:
If your lives were embittered as mine is, by seeing day after day this massacre of the innocents by unsuitable feeding, then I believe you would feel as I do that misguided propaganda on infant feeding should be punished as the most criminal form of sedition, and that these deaths should be regarded as murder. ... Anyone who, ignorantly or lightly, causes a baby to be fed on unsuitable milk, may be guilty of that child's death.
In the nineteenth century, the focus was on researching and developing the best type of formula to replace breast milk, whereas in the twentieth century the idea was that breast milk must be replaced so that the revenues and profits would be large. Through skillful marketing and promotion campaigns along with medical complicity, (e.g., lavish conventions), artificial feeding gained both societal and medical legitimacy.
Eventually the manufacturers turned to the developing countries. Their goal was that women would start using formula as soon as possible and they began their work by promoting formula in maternity wards. Free deliveries. For example, in the 1960s the United Nations International Children's Education Fund (UNICEF) distributed large amounts of milk powder for malnourished infants, almost two million pounds each year.
This helped artificial feeding with milk powder to gain popularity in the developing countries. The interests of the dairy industry were in direct opposition to what was in the best interest of the infants as this change resulted in a high child mortality rate.
After Dr. Cicely D. Williams gave her speech in 1939, it took about 25 years until the children's specialist Dr. Derrick B. Jelliffe (1921–1992) and his wife Dr. Eleanore Florence Patrice Jelliffe (1920–2007) coined the term "commerciogenic malnutrition" and with their research drew attention to the many problems caused by bottle-feeding. The pediatrician Dr. Catherine Wennen also described the disastrous situation in Nigeria in the 1960s.
In 1968, the monograph "Infant Nutrition in the Subtropics and Tropics" was written by Derrick B. Jelliffe and published by the WHO — the couple wrote many papers and books over the course of their careers.
The Era of Activism
The collective activities of health care workers and other activists finally became visible enough that the United Nations Protein Advisory Group met in 1970 to discuss the problem.
In 1973, Drs. Puffer and Serrano in South America und Drs. Plank and Milanesi in Chile also showed the clear relationship between the more widespread use of formula and the increasingly high child mortality rates.
Senator Edward Moore Kennedy (Teddy, Ted Kennedy) was the chairman of the Subcommittee on Health and Scientific Research in 1978. In the same year, he held a hearing on the use and promotion of baby formula in developing countries. This hearing received much attention from politicians and the national media. His main question was as follows:
Can a product which requires clean water, good sanitation, adequate family income, and a literate parent to follow printed instructions, be properly and safely used in areas where water is contaminated, sewage runs in the streets, poverty is severe, and illiteracy high? (S. 159)
At this hearing, Dr. Derrick B. Jelliffe (1921–1992) described how even cans of puppy formula have a warning on them that puppies should not be given the puppy formula in the first few days of life so that they can nurse and receive colostrum from their mother. He made the point that this warning was not present on cans of formula, which would be consumed by infants.
Dr. Natividad N. Relucio Clavano (1932–2007), Chief of Pediatrics at Baguio General Hospital in the Philippines, made a statement that was even more dramatic. Her hospital had banned all formula advertisements, asked the milk nurses from the formula manufacturers to leave the hospital, and actively promoted breast-feeding. She reported on the results:
In just over four years, in a population of 10'000 infants, the breastfeeding rate jumped from 26 % to 87 % ... we were able to reduce our infant deaths by over 47 % and diseases by 58 %. Diarrhea was reduced by 79 % (p. 160).
The Kennedy hearings represent a turning point after which mothers increasingly chose to breast-feed. It also led the WHO and UNICEF to make recommendations and hold further meetings on the issue, for example, the meeting in October 1979 in Geneva titled "Infant and Young Child Feeding".