Best book about milk and dairy products that includes scientific studies and draws convincing conclusions about calcium and allergens.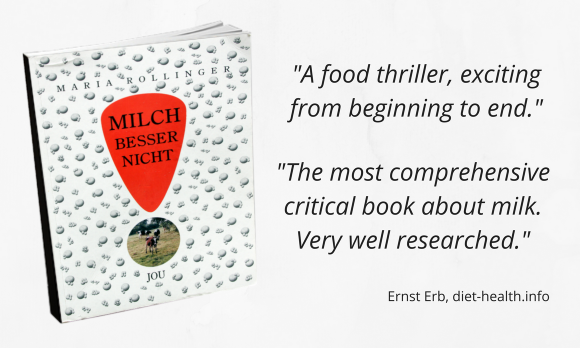 © CC-by 2.0, Catalina Sparleanu, PhD, Foundation Diet and Health Switzerland
Conclusion
The information in this book is based on scientific research. It provides readers with an entirely different view of milk (and dairy products). It's true that every food has its advantages and disadvantages, and that the disadvantages become apparent when larger amounts are consumed.
But the disadvantages of milk are so numerous and serious that some scientists refer to it as the most important food that you should avoid. This is why so many books have been written that are critical of milk.
Milch besser nicht! (Milk, better not!) is the best and most comprehensive critical book on milk and dairy products I've ever seen.
We are so heavily influenced by the industry, politics (lobbying), medicine, and the media that I probably shouldn't put the conclusions at the beginning. If you doubt the veracity of the statements below, please read through the collection of about 50 scientific papers provided by Maria Rollinger — the content and links are in English.
I can only recommend that you read this book because—despite my long and detailed book review—there is much evidence and proof that I could not include in my text. The summary here only shows the relationship between consumption and health. This and other topics relevant to milk appear in the discussion after the conclusion and summary.