Best book about milk and dairy products that includes scientific studies and draws convincing conclusions about calcium and allergens.
Conclusion
The information in this book is based on scientific research. It provides readers with an entirely different view of milk (and dairy products). It's true that every food has its advantages and disadvantages, and that the disadvantages become apparent when larger amounts are consumed.
But the disadvantages of milk are so numerous and serious that some scientists refer to it as the most important food that you should avoid. This is why so many books have been written that are critical of milk.
We are so heavily influenced by the industry, politics (lobbying), medicine, and the media that I probably shouldn't put the conclusions at the beginning. If you doubt the veracity of the statements below, please read through the collection of about 50 scientific papers provided by Maria Rollinger — the content and links are in English.
I can only recommend that you read this book because—despite my long and detailed book review—there is much evidence and proof that I could not include in my text. The summary here only shows the relationship between consumption and health. This and other topics relevant to milk appear in the discussion after the conclusion and summary.
While the above is true for all people, the following is only an issue if lactose intolerance is present. For the large majority of people who are lactose intolerant, lactose can cause mild to severe digestive problems that can have a variety of harmful effects. This book also covers other very rare diseases that for genetic reasons can result from milk consumption.
In the past, slow fermentation in the rye or wheat caused the gluten to disappear, but today we grow grains that have the highest gluten content possible. It is the same with milk and dairy products.
It is only as a result of the great increase in milk consumption that illnesses are appearing that we didn't have or didn't have to this extent in times without any or with a lower milk consumption.
With milk, it often takes a long time for an illness to manifest, and the connections between milk proteins, lactose, and health problems are therefore not immediately obvious.
According to the book No milk by Dr. Daniel A. Twogood, the list above should be extended to include chronic neck pain, back pain, and/or headaches. Read the compelling book review. The author speaks about the experience he gained from working with over 3,000 cases.
1. Summary
Maria Rolliger goes back to the origins of humanity (human evolution) and then to the time when humans domesticated cattle and therefore cows. This was about 8,000 years ago.
It was not until about 1950 that milk production and processing (dairy industry, dairy farming, and creameries) began to multiply, which ended up making milk and dairy products become a central part of our diet (nutrition).
This development of dairy products becoming a main food item goes hand in hand with a huge increase in lifestyle diseases. The author avoids directly linking these though because too many other developments have taken place simultaneously.
Milk and dairy products contain a wide range of substances, which act very differently in each individual person—and that's the problem. As a result, the possible consequences of consuming dairy products are unfortunately quite varied. The book and the information presented here are therefore sometimes challenging to understand.
It is very difficult to completely cut out milk and dairy products, but it is worth it—no matter whether you are sick or healthy. Look around and you will see how many people are already suffering at a relatively young age from unnecessary lifestyle diseases.
Two more book reviews show other reasons why this is the case. These book reviews are on the China Study and on Salt, Sugar, and Fat. And the book MILK The Deadly Poison takes up the problem of milk as well, providing a slightly different perspective. The links will bring you to the book reviews.
2. Book review
In the preface, Ulrike Martin Plonka, research assistant for Milk, better Not!, points out that the dairy industry is increasingly working to open up new markets in traditionally dairy-free countries. However, in these countries the people are usually lactose intolerant. The opening of new markets is carried out under the guise of development assistance (development cooperation and aid) with the support of governments. Yet these people will suffer even greater health disadvantages in the future than we will.
In the introduction, Maria Rollinger clears up a misunderstanding regarding the importance and use of milk in biblical times. She explains the meaning of the Promised Land, where milk and honey flows as described in the Torah and in the Bible (Exodus 3:7–8 and Genesis 13:14f) about 3,300 years ago. Because milk was not drunk until the late nineteenth century, but was instead processed into butter and cheese (p. 18).
For a discussion on milk and our lack of full adaptation to it, it is important to know that humans have only had domesticated animals, such as goats and sheep, for the last 12'000 years. And it was only 8'000 years ago that people in the Middle East domesticated cattle. Even more to the point, drinking milk, instead of processing almost all of it into butter or cheese, is a development which only began during the Industrial Revolution.
Using data from the different time periods, the author informs us that we have been consuming "white milk" products in abundance only since the end of World War II. We have been drawing the wrong conclusions from the biblical vision of milk and honey.
2.1. History, p.23
Only once you trace the origins of Homo sapiens (humans), will you be able to understand just how new the modern habit of drinking milk is, explains Maria Rollinger. She further states that researchers have established that we have the typical characteristics of herbivores.
Animal food from larger animals was only consumed starting in the Upper Paleolithic period, parallel to the global development of the hunter-gatherer cultures.
However, even then the proportion of plant foods was always about 70 percent, says the author.
There were special developments at various times and places, for example, a diet consisting mainly of large hunted animals in the last part of the Paleolithic period. This brought whole societies to the brink of ruin (p. 24).
Milk is still the most recent food item and adaptation to it is least advanced. In most people, no adaptation has occurred at all, since they do not consume dairy products.
2.2. From subsistence to industrial production (1870 - 1970), p.49
The author describes under subsistence (traditional economy), how much Germany's population grew since its unification which established the German Reich (empire) in 1871 until 1914. In this time, the development of cities, the milk trade, and the practice of drinking milk arose.
The first laws came into being because of milk adulteration (mixing milk with water, see also milk quality testing). Thanks to Louis Pasteur, heat treatment of milk began initially at 90 degrees Celsius (194°F). And thanks to Robert Koch, testing for tuberculosis (TB) and inflammation of the udder (mastitis) was conducted. Research institutions and funding organizations for the dairy industry were created later.
In 1879, a food law was passed that mandated certain controls and labeling requirements. In 1930, a Dairy Act (later called Milk and Fat Act) was adopted.
The actual dairy industry arose only after World War II (Association of the German Dairy Industry). The Milk and Fat Act (Milch- und Fettgesetz) of 1951, enacted in 1952, already aimed at cheap mass production for mass consumption (consumer society, consumerism, followed by the throw-away society) and international trade (p. 67).
Before World War II, more than 30 percent of farms used cows as field work animals. In 1958, it was only 20 percent. They did not have to give milk continuously and never that much.
The normal age of cows was about 25 (20) years. Today, they are exhausted after four to six calving cycles and get slaughtered after six to eight years (p. 72).
Until certain laws were passed in 1970, milk was a regional issue. Milk sours in one to one and a half days and previously turned into soured milk, but today it rots (putrefaction, decomposition). Using the technical facilities developed in the 60s for cooling, processing, and filling, lactic acid coagulation (lactic acid fermentation) can now be delayed by several days.
2.3. Consequences of industrial milk production and milk processing, p. 79
The EEC market regulations in 1968 brought overproduction (excess butter and milk due to economic interventionism) and the simultaneous collapse of small- and medium-sized enterprises (SMEs).
The author details the changes for the farms and the new feed the cows were given, which included many unsuitable ingredients such as silage and concentrated feed from various products such as canola, maize, wheat, barley, and (until 2001) animal proteins.
This milk has an altered bacterial flora and a lack of lactic acid bacteria. Instead, it contains somatic cells, i.e., body pus cells (pus). EHEC bacteria (enterohaemorrhagic escherichia coli bacteria) are sometimes involved in mastitis and can cause serious intestinal diseases in humans.
Maria Rollinger describes the changes to milk since World War II. These have to do with its bacterial flora, and fat and protein content.
Starting on page 91, Maria Rollinger writes about the suffering of animals. In this section, she quotes a translation of five key findings made in chapter three of the Report on Animal Welfare Aspects of the Use of Bovine Somatotrophin. Then she discusses the mistreatment of animals.
2.4. Dairy product consumption long ago, yesterday, and today, p. 103
In the last thousand years, humans have lived on primarily various grains, meat, fish, legumes of all kinds, nuts, seeds, vegetables, oil, and small amounts of fruit, eggs, butter, and cheese. The amount of fresh dairy products has been minimal. At times, meat consumption has predominated (Late Middle Ages and the fifteenth and sixteenth centuries), and at other times, grains and legumes have been the major staple (seventeenth and eighteenth centuries).
Based on a lack of and later on limited figures from statistics and other sources, the author concludes that the practice of drinking milk has played a negligible role. Virtually everything can be found in statistics, but nothing about milk. Since 1930, this has changed, at least in Germany.
2.5. Milk, lifestyle diseases, and intolerance of basic foods, p. 115
The scientific mainstream still refuses to recognize links between specific environmental factors and diseases, unless they concern substances that have been identified as toxic.
The Western lifestyle diseases such as diabetes mellitus, cardiovascular disease, osteoporosis, cancer, chronic inflammatory bowel disease, multiple sclerosis (MS), Parkinson's disease, allergies, and asthma were as rare in Japan as dairy products. It was not until they adopted our staple foods made from milk and grains that these diseases appeared.
It has been shown that human beings have not yet adapted to grains and milk, which, seen historically, are new foods.
It is only as a result of the great increase in milk consumption that illnesses are appearing that we didn't have or didn't have to this extent in times without any or with a lower milk consumption.
With milk, it often takes a long time for an illness to manifest, and the connections between milk proteins, lactose, and health problems are therefore not immediately obvious.
People only react quickly in cases of intolerance, at least that was the case in the past. Through intensive processing, the digestibility has been improved, and the stomach and intestines no longer react by sending warning signals.
Today, milk is similar to gluten; it has become a cause of illness that is silent and hidden in almost everything, and those affected cannot get rid of it without taking further action (p. 133).
2.6. Lactase, p. 135
In this chapter, the author examines the components of milk and divides milk into water, lactose (a carbohydrate), fat, proteins, minerals, and hormones. She explains how we produce the enzyme lactase (β-galactosidase) in the mucosal cells of the brush border in the small intestine (microvilli).
Only few "Westerners" seem to know that about 80% of the world's population are lactose intolerant as adults.
Illnesses such as infectious diarrhea (gastroenteritis), colitis, Crohn's disease, and celiac disease/celiac sprue, serious undernourishment, or a bacterial overgrowth syndrome (e.g., small intestinal bacterial overgrowth) can cause secondary lactase deficiency.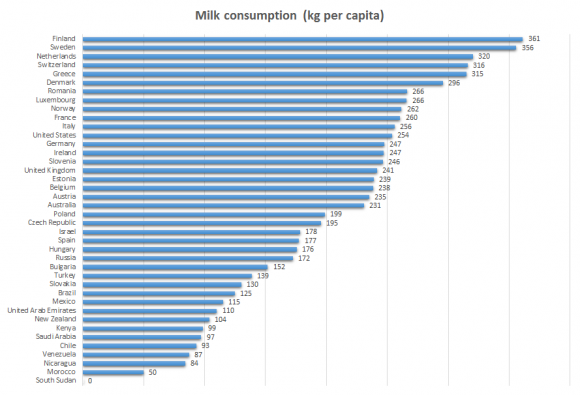 The author explains that those responsible for the health system speak with powerful eloquence of the 71 billion euros that diet-related illnesses cost, but given the lack of understanding of the problem and/or the ideological position, research on the causes of illnesses related to the environment and diet" is not tackled. That would be uncomfortable and unpopular (p. 153).
Instead, people try to find entirely different causes for the North-South divide of lactose-intolerant adults, for example, a lack of Vitamin D production because of too little sun.
2.7. Milk, calcium, and contradictions, p. 157
Calcium has several important physiological functions. Up to 99% of the calcium in the body can be found in the bones and teeth, but it also plays a role in many other places. Our body needs to maintain a certain pH value in the blood and does this by regulating the calcium levels very closely. In this context, the author lists the important role that calcium plays along with magnesium in the functioning of our heart, the regulation of saltatory conduction between the nerve cells, and the significance of calcium for blood coagulation (hemostasis).
The author explains how government agencies and health officials repeat the formula "Drinking a lot of milk = a lot of calcium for the body." This happens despite the fact that we have global statistics at our disposal that show the opposite. It is true that milk contains a lot of calcium with 120 (to 160) mg/dL, but this is similar to a number of vegetables, for example, chives with 130 mg/100 g, kale, white beans, fennel, and spinach. However, you will find a much higher amount of calcium in sesame seeds with 780 mg/100 g, amaranth with 490 mg/100 g, flaxseeds with 260 mg/100 g, and almonds with 250 mg/100 g.
Interesting and enlightening is the fact that the WHO recommends 400–500 mg/day of calcium for those in "nonmilk countries," but 900–1,500 mg/day for those in "milk countries." The majority of people still live without following Western nutrition patterns, without dairy products and calcium substitution, and therefore practically without osteoporosis and with a much lower incidence of lifestyle diseases. But for how long?
2.8. Milk ingredients and resulting problems, p. 167
Today, milk is made up of 13% dry components and 87% water. The dry components consist of 4.8% water lactose, 4% fats (lipids), 3.5% proteins, and 0.7% minerals, enzymes, hormones, foreign substances, and vitamins, which are partially dissolved in water. The effect that the enzymes and hormones have on us has not yet been sufficiently researched.